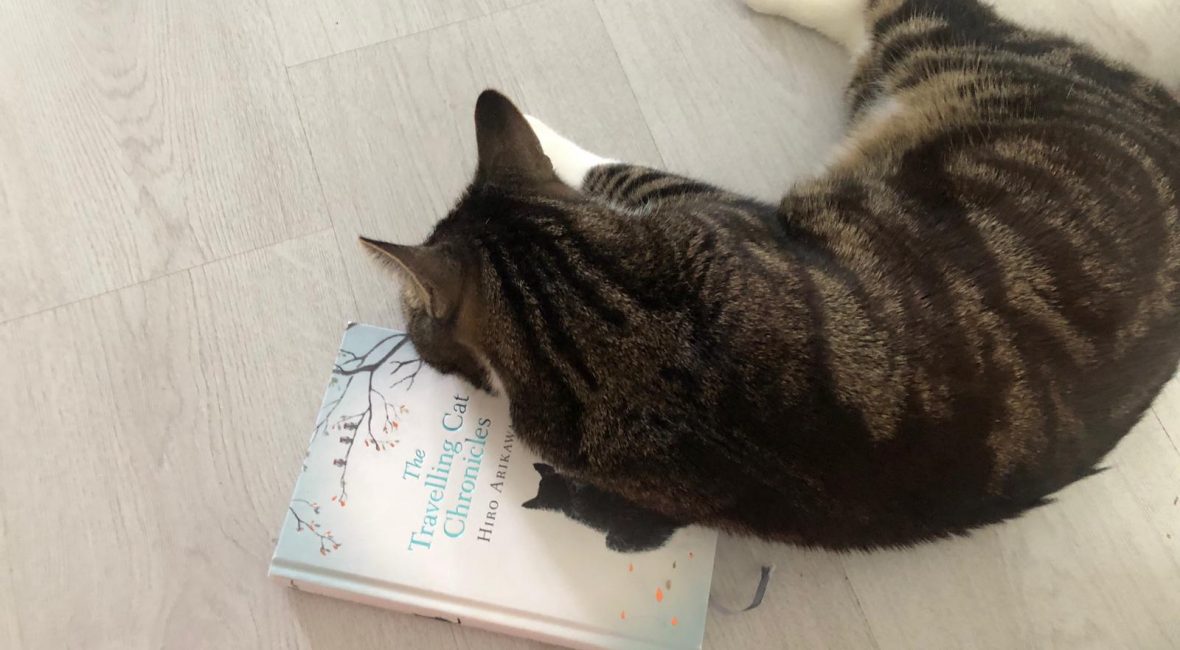 When the hardcover edition of The travelling cat chronicles was only a few euros more than the e-book, I decided I needed to have it. I read it quite quickly after I received it, but because I was in the mood for a cute story. Whether it was indeed such a story, read the review below.
The picture above is my cat with the book. He spontaneously lay on top of it while I tried to take a picture. 🙂
The book cover
'It's not the journey that counts, but who's at your side. Nana is on a road trip, but he is not sure where he is going. All that matters is that he can sit beside his beloved owner Satoru in the front seat of his silver van. Satoru is keen to visit three old friends from his youth, though Nana doesn't know why and Satoru won't say. Set against the backdrop of Japan's changing seasons and narrated with a rare gentleness and humour, Nana's story explores the wonder and thrill of life's unexpected detours. It is about the value of friendship and solitude, and knowing when to give and when to take.'
The story
Satoru is fond of cats and feeds a stray in his neighborhood. As a child, he had to give up his cat Hachi due to traumatic reasons. Slowly Satory and the cat get acquainted. When one day, the cat even comes to live with him. He names the cat Nana, for the number 7, which is the shape of his tail.
Although they seem to make a happy home together, Satoru takes Nana on a trip across the country to find him a new place to live. Driving through the Japanese landscapes to get to several friends, you both read from Satoru's and the cat's perspective. During his visits at his friends, you learn more about Satoru and his past. Eventually, you also learn about his present and future.
My opinion
It was both a cute and sad book. I think it's really written for cat/pet lovers, because Satoru goes through lengths for Nana. That's probably a bit much for people who don't like or care for animals. I liked the book, the writing and the atmosphere. To be honest, I had not expect the sadness in the book and I thought it was kind of a pity. Although it did make it a memorable book.
Conclusion of The travelling cat chronicles
I enjoyed reading it and I recommend to people who love cats as well. It was nice that some parts were written from the perspective of the cat. Also, it's a cute story and an easy read. The ending had me feeling feelings. 😉
Verdict