Review: Most likely by Sarah Watson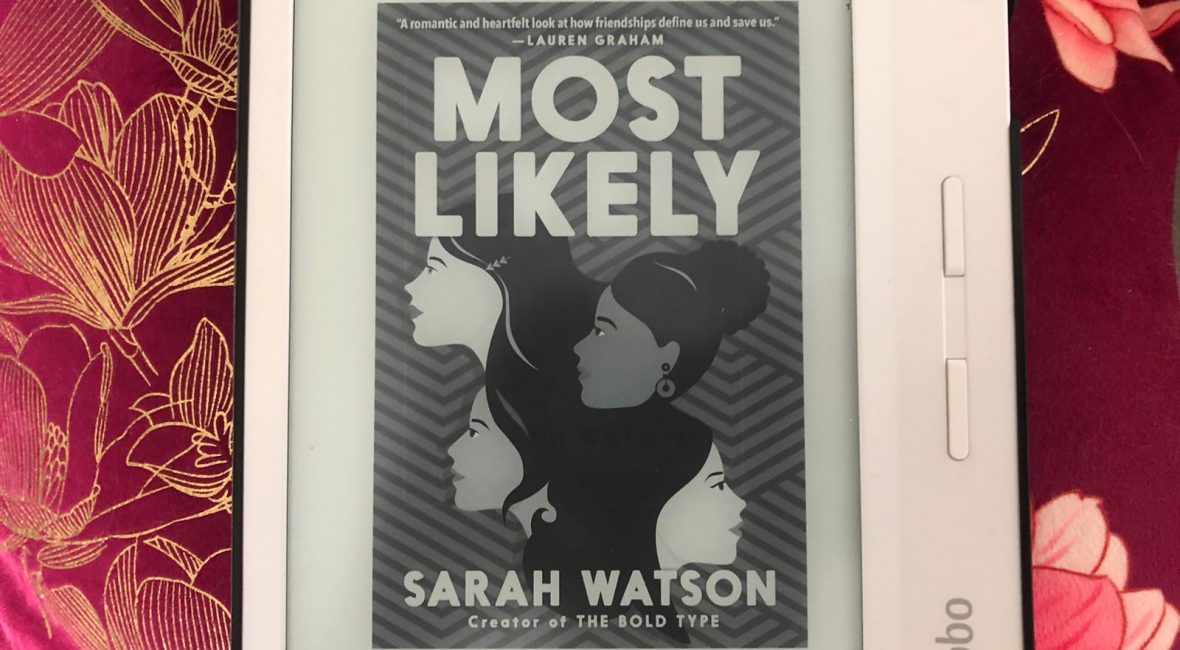 During the 'intelligent lockdown', I really wanted to read something uncomplicated. Therefore Most likely seemed like a good choice! Of course, teenagers are like the most complicated creatures on earth, but then again they are not. I stumbled upon this book via Instagram and I decided to try it so I bought the e-book. I am not sure if I ever read Young Adult before… at least not in the last decade. Did I like it though? Read it below!
Book cover
Ava, CJ, Jordan, and Martha (listed in alphabetical order out of fairness) have been friends since kindergarten. Now they're in their senior year, facing their biggest fears about growing up and growing apart. But there's more than just college on the horizon. One of these girls is destined to become the president of the United States. The mystery, of course, is which girl gets the gig.
Is it Ava, the picture-perfect artist who's secretly struggling to figure out where she belongs? Or could it be CJ, the one who's got everything figured out…except how to fix her terrible SAT scores? Maybe it's Jordan, the group's resident journalist, who knows she's ready for more than their small Ohio suburb can offer. And don't overlook Martha, who will have to overcome all the obstacles that stand in the way of her dreams.
This is the story of four best friends who have one another's backs through every new love, breakup, stumble, and success–proving that great friendships can help young women achieve anything…even a seat in the Oval Office.
My first impression of Most Likely
It opens with someone being inaugurated as president. Maybe the husband's last name is a give-away? That would be strange though, because this story is about a female president. Why so conservative? Apart from that, the story seems to be easy breezy from the start, so I will definitely continue reading.
The story
The story is about a group of 4 girlfriends that are in their last year of high school. They all have their own characters, strengths and personal troubles. They seem like a normal group, but one of them will become the president of the United States!
There is a park in their town that has a playground and trees that are illegally signed by all high school graduates. However, the municipal is planning to replace it because of the nuisance. The four girls plan to stop the removal, all in their own way. This shows a lot of their characters. However, during the book you also read about their personal strives, so Ava, CJ, Jordan, and Martha become more in-depth.
My opinion
I really liked this book. The girls are all pretty likeable. It also touches on a variety of subjects, such as depression, being poor, being under a lot of pressure, volunteering with challenged kids, courage, adoption, ethnicity and more. However, the red thread throughout the book is their friendship and how they would do anything for each other. I love it when girls are good to each other. 🙂
Conclusion of Most likely
It's a nice read! I did not expect that the characters would have that much depth, that is a big plus. The ending felt a bit off to me, a bit paternalistic, while it is a book about strong girls. Pity.
I would give it 3,5 stars, so rounded up that's 4 stars.
Verdict