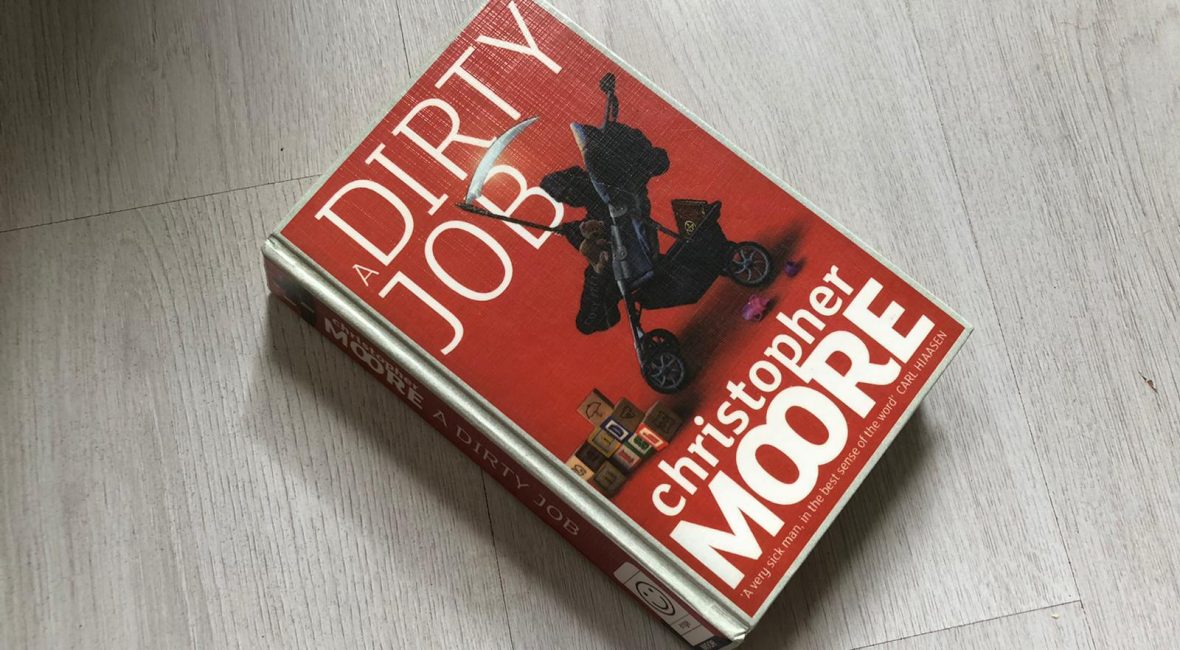 When I searched for funny books, this title came up multiple times. Sometimes, you're just in the mood for something funny. Therefore, I decided to get A dirty job of Christopher Moore at the library. Did I think it was funny? Find out below!
Book cover
"Charlie Asher is a pretty normal guy. A little hapless, somewhat neurotic, more of a Beta than an Alpha Male. Charlie's been lucky, though. He owns a building in the heart of San Francisco, and runs a second-hand store with the help of a couple of loyal, if marginally insane, employees. He's married to a bright and pretty woman who actually loves him for his normality. And she, Rachel, is about to have their first child.

But normal service is about to be interrupted. As Charlie prepares to go home after the birth, he sees a strange man dressed in mint-green at Rachel's hospital bedside – a man who claims that no one should be able to see him. But see him Charlie does, and from here on out, things get really weird. . . .

People start dropping dead around him, giant ravens perch on his building, and it seems that everywhere he goes, a dark presence whispers to him from under the streets. Strange names start appearing on his nightstand notepad, and before he knows it, those people end up dead, too. Yep, it seems that Charlie Asher has been recruited for a new job, an unpleasant but utterly necessary one: Death."
My first impression
His writing style is very pleasant! I had a few smiles, but I didn't really laugh yet. I am curious to find out why people think this book is so funny. It starts rather sad.
The story A dirty job
The book revolves around Charlie, he has a second-hand store in San Francisco and is about to have a kid with his wife who he loves very much. When his wife is in the hospital, he sees a strange figure next to her bed. His wife passes, his child makes it, and from that moment on his life changes. And not only because he is a new father and single.
It turns out he became Death. At first he refuses to collect the spirits, but as life gets stranger and ravens and demons start to show up, he understands he has a task at hand. Along the way he meets more Deaths and people. Moreover, hellhounds show up to protect and take care of the baby. Why would that be? We find that out at the end of the book with an interesting plot twist.
My opinion
It was a fun read, but I couldn't really get into it. I think it was not funny enough to be comical and that the story/plot was not thick enough to be a strong fantasy book. I didn't have long afterthoughts after this book, nor do I think that I will ever read it again. However, it was entertaining enough to finish the novel.
Conclusion of A dirty job
It was a fine read. As many people recommend this book as a funny book — it might even be the book you're looking for! However, I had higher hopes for this book. It was entertaining, but I didn't laugh out loud. However, entertaining is enough to enjoy the read.
Verdict